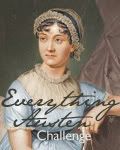 Stephanie over at
The Written Word
is hosting the Everything Austen reading challenge from July 1-January 1. I'm really excited about this one, especially since I still haven't read two of the original novels! The challenge is to complete at least six Jane Austen-related books or movies within the time frame, and it's very flexible, because you can even choose derivative works, like sequels or modern adaptations.
I hope you will join me in participating—
go and sign up
, and let me know in the comments here if you do!
Here is my list:
1.
Mansfield Park
-- Ugh, I can't believe I've still never read this one. I saw the 1999 movie and found that I didn't really like Fanny Price, so I've never felt compelled to read it. However, I am determined to find something to like about it!
2.
Persuasion
-- I have also seen the Ciaran Hinds version of this movie, liked it very much, and yet never read the book. I know quite a few people who say that this is their favorite, so I am excited.
3.
Sanditon
-- I plan to go out and find a good version of this, though I've seen some places where different authors have edited it or added to it and that seems iffy to me. Now I will finally have completed all the Austen novels!
4. Pride and Prejudice, the 2005 film
—This is just one of my favorite movies. I'll probably watch it this week, anyway.
5. Pride and Prejudice, the 1995 BBC miniseries
—I haven't sat down and watched this whole thing since the first time I saw it years ago. It's time I watched it again and remembered how much I loved it.
6.
What Jane Austen Ate and Charles Dickens Knew
by Daniel Pool—I've been meaning to read this ever since I first opened an Austen novel. I've only ever heard rave reviews about it.
And bonus… as if I didn't have enough in my TBR pile…
7.
Mr. Darcy Takes a Wife
by Linda Berdoll—I'm laughing as I type this because one of my best friends read this book and told me she hated it so much she threw it across the room. But I obviously like a romance novel every once in a while, and I think that this is the sequel that has gotten the most press out of all of the many that have cropped up over the last few years, so I might as well borrow her battered copy and give it a go.
8.
Pride and Prometheus
by John Kessel—This is a short story that I downloaded for free to my Sony eReader that I've been meaning to get to. So this is just a little bonus that will probably take an hour or so to read. Anyway, it's a crossover that won some award (don't worry; when I review it on here I'll look up all these links!) where Mary Bennet meets Victor Frankenstein.
I will be reviewing everything here, posting along on the challenge board, and otherwise tagging everything having to do with the challenge with the label "Everything Austen." I also will keep a link to the challenge on the sidebar of this blog.
Happy reading, and I hope you'll follow along with me!