It's blog tour time!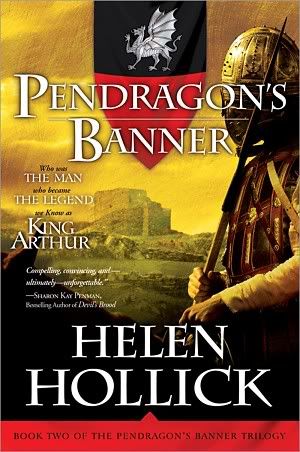 Pendragon's Banner
(Book 2)
by Helen Hollick

Cover:
Overall, I like it. It's very *manly* looking, and will probably attract a lot of readers.
Summary:
Arthur is king in a historically-based Great Britain. He goes on progress, he works in a world plagued by ethnic conflict, and he fights for his own survival as well as for that of his loyal men and his dream of a Britain under his single rule. It is a fast-paced novel of the early medieval period, with one man fated to bring light to to a dark age.
My Review:
This is one of the better Arthurian books I've read in while. While I'm a huge fan of T.H. White's classic
The Once and Future King
, I'm probably a bigger fan overall of Arthurian books based on historical fact. Hollick has clearly done her research and kept this Arthur solidly based in a real time.
On a side note, I also appreciate that the author decided to write dialogue in a more sophisticated and style. Much as I loved
The Mists of Avalon
, I always felt taken out of the time period when so much of the dialogue was written in a modern syntax. At the same time, Hollick writes her dialogue in the way that Sharon Kay Penman does: stylistically, but not distractingly-old-fashioned. It's enough to help engross you in the period, but also easy enough to read through quickly.
I have to say that Gwenhwyfar ("Guinevere" from the traditional tales) was my favorite character. She was strong and made her opinion known whenever she had one, and it made her sections of the book particularly interesting. I think some criticism that might come her way would be that Gwenhwyfar is anachronistically spunky, but I think that she's rather more historically accurate by being portrayed this way. We don't know a fraction of what life was like for medieval women because of the lack of written information about them. Modern writers have to work based off of scant material, and as such it's easy to make mistakes or strange suppositions. However, I think that Hollick is fully justified in her characterization of Gwenhwyfar; after all, women didn't just turn "spunky" in the 1970s when they became much more equal to men in the official views of society. There have always been fierce ladies, no matter their social position or their period of time, and the Guinevere of legend, if there is any historical base, must have been one of them. She was descended from royalty, educated, and believed she was destined to marry the greatest king of all time; why wouldn't she speak her mind? For all intents and purposes, she and everyone around her believe her to be one of the most influential women of the age. Plus, reading about a lady like her is always entertaining and makes you turn the pages as fast as you can.
And yes, I did just use the word "fierce."
Arthur is noble and easy to like. The action scenes are great fun, too. One of the most beautiful and horrible parts of Arthurian literature, for me, has always been the love triangle between Arthur, Guinevere, and Lancelot, and immensely hard to understand. Hollick approaches this part of the lenged from a different angle that is more satisfying.
While this definitely feels like the "middle" part of the trilogy that it is, I read it without having read the first one and was able to follow along and enjoy it without feeling like I was missing something. I look forward to the next book in this series, and to going back and reading
The Kingmaking
.
Visit the author's website
Buy this book on Amazon
The Courtier's Book is part of the Sourcebooks blog tour for
Pendragon's Banner
-- see what everyone else has to say about this exciting book by following along on the next tour stops:
The Tome Travellers Weblog (10/12)
A Reader's Respite (10/12)
Carla Nayland's Historical Fiction (10/13)
Enchanted by Josephine (10/14)
Fumbling with Fiction (10/14)
Found Not Lost (10/15)
Nan Hawthorne's Booking the Middle Ages (10/15)
Jenny Loves to Read (10/16)
The Review From Here (10/17)
The Courtier's Book (10/18)
Chick Loves Lit (10/19)
Love Romance Passion (10/20)
He Followed Me Home… Can I Keep Him? (10/20)
The Impasse Strikes Back (10/21)
S. Krishna's Books (10/22)
Books Like Breathing (10/23)
Passages to the Past (10/24)
Virginie Says (10/25)
Readaholic (10/25)
Reading with Monie (10/26)
Rundpinne (10/26)
Books & Needlepoint (10/27)
Capricious Reader (10/27)
Books are my Only Friends (10/27)
A Sea of Books (10/28)
Bloody Bad (10/28)
Revenge of the Book Nerds! (10/28)
Booksie's Blog (10/28)
Devourer of Books (10/29)
Peeking Between the Pages (10/29)
Starting Fresh (10/29)
Historical Tapestry (10/30)
Medieval Bookworm (10/30)
Book Soulmates (10/30)
Susan's Art & Words (10/30)
Steven Till (10/31)
Café of Dreams
(10/31)
There are plenty of interviews, guest posts, and book reviews to interest anyone-- enjoy!