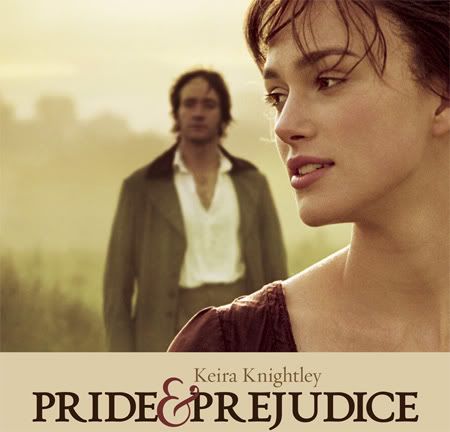 Director:
Joe Wright
Cast:
Keira Knightley, Matthew Macfadyen, Donald Sutherland, Rosamund Pike, Simon Woods, Dame Judy Dench, Jena Malone
Summary:
I'm… not going to summarize this. If you're reading a book blog, and furthermore a historical book blog, I think I have good odds that you know what the story is about.
My Review:
As I've already stated, I love this movie. The book purist in me cringes at the cuts and changes they made to the storyline and various characters, but I love it regardless.
Thus, this is mainly going to be a gushy picture post.
I liked Keira Knightley as Lizzy
a lot
. I think that she comes off as an intelligent person on screen and she does a great character arc.
I did once read, however, a review that said she would have done better as Cathy in a production of
Wuthering Heights
, rather than P&P. They said, among other comments, that she wasn't quite charming
enough
as Lizzy, and anyway the rest of the cast was ready made for that movie. I
do
think that Matthew Macfadyen would also have been great as Heathcliff, and this picture: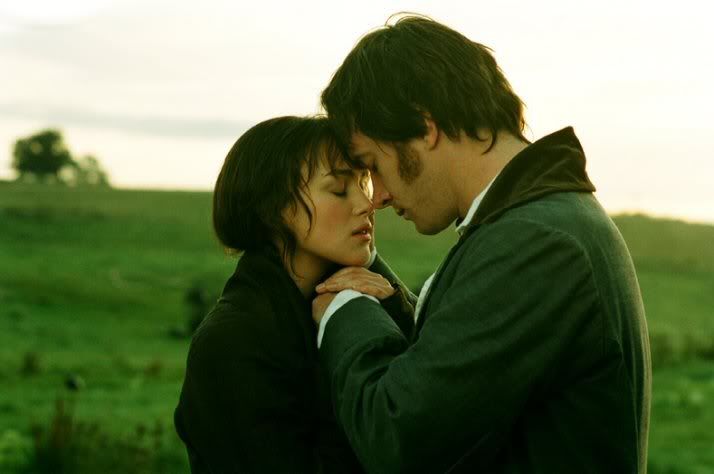 could absolutely have been lifted straight out of a scene of WH.
Regardless. I like this cast together a lot, and I still love this movie. Also, this scene at the end, where Darcy walks across the field with his jacket billowing in the breeze? That's awesome.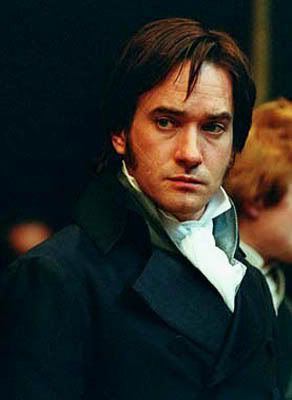 Which brings me to Mr. Darcy himself. Look at that. He's all broody and judgey. He just wants a hug, and to get the hell out of that ballroom. Matthew Macfadyen was definitely worthy of taking on the role. But is he better than Colin Firth? I answer that question with another question: why do we have to choose? There's plenty of Darcy love to go around!
I also like most of the rest of the cast. I loved Rosamund Pike as Jane, particularly because now we could believe what all the characters say in the book: Jane is the fair, gorgeous Bennett girl, and Lizzy is the sharper, slightly less polished daughter. As for the other girls... they were fine. I can't tell if I didn't like Jena Malone because Lydia is such an infuriating character, or because I was jealous that she got to be in this movie and I didn't, or because I have traumatic memories of being forced to watch that horrible
Stepmom
movie where she plays the daughter. Either way, I could have done without her.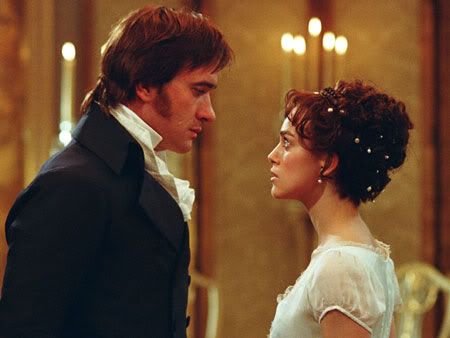 This is a very visually appealing movie. I know a lot of people didn't like the drabness of Lizzy's dresses and her giant walking coat, but I actually did. I feel like, given their family situation, they might not be wearing the latest cute fashions, or have clothes that fit them exactly, or have perfect hair.
I
love
the hair in this movie. Witness this picture. Getting my hair to look like this is on my list of things to do before I die. I simply feel that this movie is the way it might have looked to live in Regency England. Also, see the Ciaran Hinds version of
Persuasion
. Even the actors in that one look straight out of Regency. I don't know what it is, if there's a certain look or dress, but that's the feel I get from these two movies.
This is my favorite scene in the movie. Thiiiiiiis. This is subtle and gorgeous and so real, and more beautiful than the final kiss. This is actually one of my favorite movie scenes out of any movie.
So that's one item down on my list of things to do for the
Everything Austen
challenge. In fact, I'm enjoying this so much, I may just review a film adaptation of every major Jane Austen novel. We'll see next week!