If you're big into historical fiction, you're most likely aware of Georgette Heyer. As the progenitor of the "Regency Romance" genre, she's basically unparalleled in success and style. To me, her books are the only ones I would ever consider comparing to Austen-- in other words, once I read all the Austen books, all I will have left will be Heyer.
Her books were published in the last century, but have enjoyed such lasting appeal that Sourcebooks has been republishing them. At my local Barnes & Noble, there is a lady who comes in every month to pick up the latest reprint! I've been enjoying a few of them over the last couple years...
Venetia
and
Bath Tangle
are two that stand out in my mind. Heyer is one of the few authors who can make me actually laugh out loud.
Luckily for us, Sourcebooks is putting out another reprint: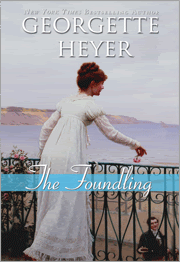 Amazon synopsis:
One of readers', librarians' and booksellers' most frequently requested Heyers, The Foundling features Gilly, the seventh Duke of Sale.
A diffident young man of 24 years, easily pushed around by his overprotective uncle and the retinue of devoted family retainers who won't let him lift a finger for himself, the Duke sometimes wishes he could be a commoner. One day he decides to set out to discover whether he is "a man, or only a Duke."
Beginning with an incognito journey into the countryside to confront a blackmailer, he encounters a runaway school boy, a beautiful but airheaded orphan, one of literature's most appealing and well-spoken comic villains, and a series of alarming and even life threatening events from which he can extricate himself only with the help of his shy and lovely fiancé…

The Foundling
will be exclusively in Barnes & Noble stores this month, so there is a very cool receipt promotion going on between Sourcebooks and the bookstores

:
"Send us your receipt/proof of purchase of

The Foundling

from your local Barnes & Noble to our office or a scanned receipt in an email to danielle.jackson@sourcebooks.com and you'll be entered to win a

$200 Barnes & Noble gift card

! Receipts must be dated between September 1 – September 31, 2009, and can be from an in-store or online purchase.
"
Send your Barnes & Noble The Foundling receipts to
Sourcebooks, Inc.
c/o Publicity
PO Box 4410

Naperville, IL 60567
Just think of all the other Heyer books you could buy with that gift card!