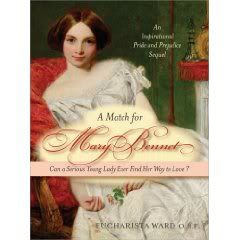 A Match for Mary Bennet
by Eucharista Ward

Cover: Mary is adorable. A little too adorable...just kidding. Pretty, follows the trend for Austen sequel style.
Summary:
Mary Bennet is one of two sisters left from Jane Austen's Pride and Prejudice who remains unmarried, but she is the only one who does not wish to be married. She attends balls and assemblies at her mother's beck and call, but she longs for deeper conversation. She wants to do charitable works and discuss poetry and literature, but she must rather spend her time primping and gossiping. In short, she's not sure she will ever be married, if this is the kind of compromise she'll have to make.
The other beloved characters from P&P also make prominent appearances. Colonel Fitzwilliam has set himself to marrying Caroline Bingley, the snobbish sister of Jane Bennet's husband. Elizabeth and Darcy, married and now parents of a son, play host to their families at Pemberley. It is there that Mary meets Mr. Oliver, the new vicar of Kympton, who seems anything but the typical clergyman to her. Mary is very serious, after all, so she has decided opinions on what a parson should be like, and Mr. Oliver is not it. He is straightforward and bold and charms everyone except her. Worst of all, when she finds occupation helping instruct the local church choir, Mr. Oliver is there to distract her and her students.
Everything seems to be going wrong for Mary. When she wants to have a quiet evening in the library at Pemberley, Mr. Oliver is there. When she can't acknowledge Lydia as her sister because of her embarrassing behavior, Mr. Oliver is there to tell her that she must learn to forgive the faults in others. If familiarity can breed attraction, then Mary is starting to see the value in Mr. Oliver's constant presence.
Then Mr. Stilton arrives on the scene. He's a handsome, rich, flirtatious rake. He rides his horses fast, and in his wooing of Mary he insists that she do so, as well. We can guess how this is going to end up.
Amidst the everyday joys, sorrows, and gossip of Regency country life, Mary Bennet must find a balance between her natural inclination to spend her life educating herself and serving others, and in finding the man who will complement that life.
My Review: I got an advance copy from Sourcebooks during the summer and passed an afternoon or two enjoying this light regency romance.
I was never a fan of Mary when I read Pride and Prejudice. In fact, much like Jane Austen, I didn't really like, or find much potential for interest in her. She was judgmental and hypocritical, and it always seemed to me like she didn't want to be anywhere that she was.
Once I got into Ward's book, however, Mary became a person with flaws, but she was rounded-out, and her flaws were explained. She's not just judgmental; she, herself, is judged quite harshly on a constant basis by her mother and her sisters, and her own criticism acts almost as a defense mechanism. She comes to be more accepting throughout the story, and begins to find that others will treat her the same way.
As for the other P&P characters, I loved her portrayal of Lizzy. She was smart and sparkling, but not overwhelming or lifeless now that she is married. I never pictured her as a retiring character, and I was pleased to see her as a well-received, active member of society. Mr. Darcy, while a minor character, is generous to his family members. Caroline Bingely and Lady Catherine remain huge snobs, much to my joy.
The writing is tight and clear, and of the best example of derivative Jane Austen fan fiction. This is no bodice ripper! The characters behave as Austen herself might have written them, rather than a modernized interpretation. Die-hard Austen addicts and the casual fan will appreciate Ward's attention to period style and detail.
It is a true romance novel in the sense that we come away satisfied with the pairing of Mary and her fiancee. We know quite early on whom she will choose, but the way that it happens, the interactions between the love interests, and some surprises along the way are what make this a pleasant, relaxing read.
Overall, if this is the way that Jane Austen sequels are going these days, then I look forward to reading plenty more!
A Match for Mary Bennet comes out on October 1st, and is available now for preorder.
Buy this book on Amazon
Visit the Sourcebooks Jane Austen center, AustenFans.com