Happy September!
I'm so excited about this month already-- there's plenty of great historical fiction being released, and I'm having my first book giveaway on this blog!
Michelle Moran's third novel,
Cleopatra's Daughter
, will be hitting bookstores on September 15th, and to celebrate, I will be running a
special giveaway
... of TWO items!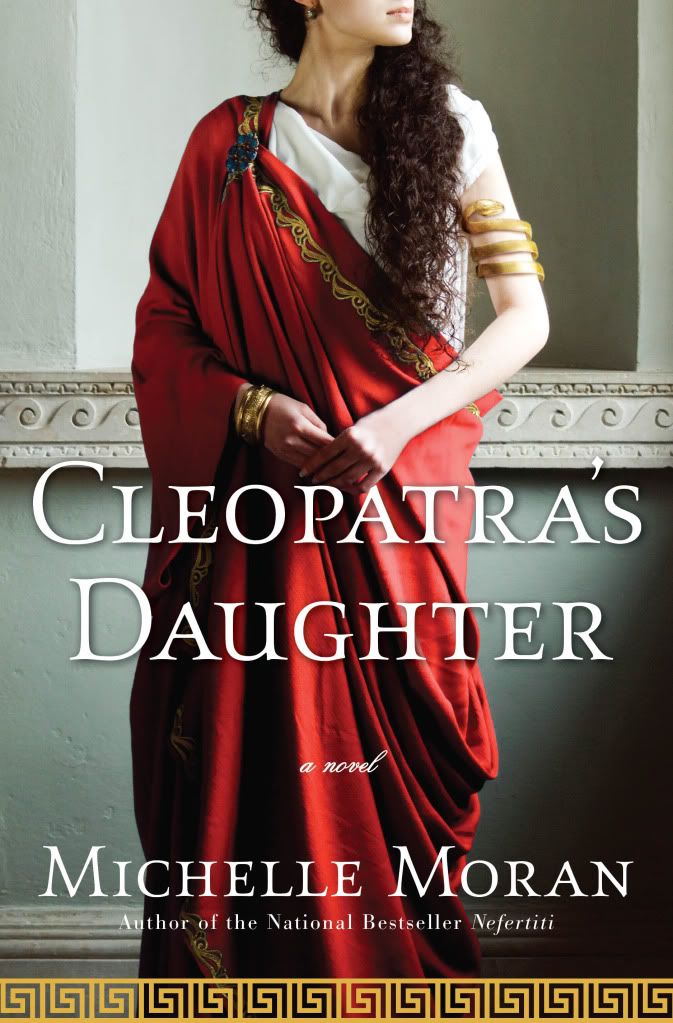 Amazon Synopsis:
Moran's latest foray into the world of classical history (after
The Heretic Queen
) centers upon the children of Marc Antony and Cleopatra . After the death of their parents, twins Alexander and Selene and younger brother Ptolemy are in a dangerous position, left to the mercy of their father's greatest rival, Octavian Caesar. However, Caesar does not kill them as expected, but takes the trio to Rome to be paraded as part of his triumphant return and to demonstrate his solidified power. As the twins adapt to life in Rome in the inner circle of Caesar's family, they grow into adulthood ensconced in a web of secrecy, intrigue and constant danger. Told from Selene's perspective, the tale draws readers into the fascinating world of ancient Rome and into the court of Rome's first and most famous emperor. Deftly encompassing enough political history to provide context, Moran never clutters her narrative with extraneous facts. Readers may be frustrated that Selene is more observer than actor, despite the action taking place around her, but historical fiction enthusiasts will delight in this solid installment from a talented name in the genre.
Amazon Synopsis:
The intricacies of the ancient Egyptian court are brought to life in Moran's fascinating tale of a princess's rise to power. Nefertari, niece of the famed heretic queen Nefertiti, becomes part of the court of Pharaoh Seti I after her family is deposed, and she befriends Ramesses II, the young crown prince. When Ramesses is made co-monarch, he weds Iset, the granddaughter of a harem girl backed by Seti's conniving sister, Henuttawy, the priestess of Isis. As Nefertari's position in the court becomes tenuous, she realizes that she, too, wants to marry Ramesses and enlists the help of Seti's other sister, Woserit. But when Nefertari succeeds in wedding Ramesses, power struggles and court intrigues threaten her security, and it is questionable whether the Egyptian people will accept a heretic descendant as their ruler or if civil war will erupt. Moran (
Nefertiti
) brings her characters to life, especially Nefertari, who helped Ramesses II become one of the most famous of Egyptian pharaohs. Nefertari's struggles to be accepted as a ruler loved as a leader and to secure her family's position throughout eternity are sure to appeal to fans of historical fiction.
You can win either a hardcover copy of
Cleopatra's Daughter
or a paperback of her second novel,
The Heretic Queen
, simply by replying in the comments section of this post. I will draw two names using a randomizer. Best of all, both items will are signed by the author herself, Michelle Moran!
Here's how you can get extra chances to win:
1 entry- Reply to this post with your email address. If you don't, I won't be able to contact you to get your address and send it to the publisher.
3 entries- Become a follower of this blog. If you're already a follower, you will automatically receive these points.
5 entries- Post about this contest in your own blog, and link to your blog post in your comment.
You have until midnight, September 12th, to enter the contest. Winners will have 48 hours to respond by emailing me their information before different winners will be chosen (I want the winners to get their books as soon as possible).
I'm practically jumping up and down in my chair typing this out, I'm so geeked. I've heard such great things about Michelle's work, I looooove reading her blog about archaeology, and I will soon be reading my own copy of
Cleopatra's Daughter
. The week of September 6th-12th, I will be featuring some Ancient Egyptian and Roman fare on this blog to get us in the mood, and will post my own review of the book then, too.
Make sure to check out Michelle's blog and her website,
MichelleMoran.com
. There are even more opportunities to win her books there, as well as a wealth of historical information.